Eliminate any kind of redundancy in your process of inviting candidates and manage your test invites better.
Accessing Invites:
Click My Tests.

A page enlisting all the tests along with corresponding Invites, Reports, and Test Analytics appears.
Click Invites for the test whose invites you wish to manage.

A page enlisting your Test Invites will appear.
Select the invitation links you want to manage. As shown in the image below, the invitations we are managing here fall under New Link.

Proctoring settings:
Proctoring column in the page enlisting the Test invite displays the proctoring settings.

Follow the below image to identify the proctoring settings: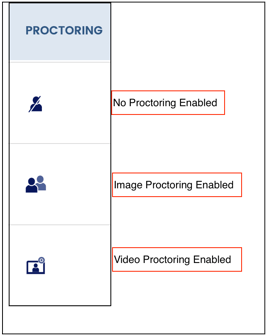 Test Invite Status:
Note: Know your Test Invite Status
Pending: Candidate is yet to attempt the test in the allocated time
Cancelled: Test Invite to the candidate has been cancelled by you within the time slot allotted for taking the test
Completed: Test has been attempted and submitted by candidate within the time slot allotted for taking the test
Expired: Candidate has not attempted a test within the time slot allotted for taking that test. The allocated time has passed
Let us familiarise you with iMocha's filter called
Test Status:
Click on Test Status dropdown.

Select the desired test invite status.
Default selection is Test Status, used to view all status types together.

The invites' list will re-arrange to show only those invites whose status is as selected by you.
Re-attempting invitations:
1. Re-inviting on Expired Status: You can re-invite a candidate who may have failed to attempt a test within the allocated time, by using the previous invite link or a new invite link.
After re-inviting, you shall see both, the previous Expired status as well as recently generated Pending status for this candidate.
2. Re-inviting on Cancelled Status: You can invite a candidate in case you had cancelled the previous invite to this candidate, by using the previous invite link or a new invite link.
a. For a cancelled invitation, the Test Status shall be updated on the invitations' list as below:



b. Attempting another invitation on a cancelled invite shall reflect separately under Test Status as Pending:



c. You will be able to see the newly updated Pending status, as well as the former Cancelled status for the same email address, logged separately as per the time at which you performed these invite activities.
Related articles,
How to cancel the test invitation?
What are the test invite options?
How to create test links and invite candidates?
How to send bulk test invitations?
For any queries, mail us at support@imocha.io.