Know how you can send test invites to up to 1000 candidates at once.
iMocha provides the option of Bulk Invites, when sending invitation to numerous candidates to take their assessments. Let's explore this option where you only have to upload a file containing all your candidate emails.
Set up your Notification Email:
Note: Notification Email will be used to communicate invitation delivery details in case the user uses Bulk invite option to invite candidates.
Click My Settings -> Basic Settings.
Enter your Notification Email and click Save (in case the user wants to change the default email).

Send your Bulk Invitations:
Click My Tests and select the test you wish to send bulk invitations.
Select the Invite tab form the panel.

Click Invite Candidates.

The specifics of your invitation settings will appear. Select the
Bulk invite to up to 1,000 candidates (.xlsx file) option.

Click Download Sample Template to download the file template to include the candidate's email. It can accommodate up to 1,000 emails.
The template contains two sheets:



a. Candidates: This sheet contains two tabs where you can add your candidate emails under Email Address along with their corresponding Applicant ID (being optional as per your convenience).

b. Instructions: This sheet contains the instructions thereon, to complete your bulk email invitations. It is only for your understanding; you do NOT have to fill anything in this sheet.
Click Bulk Email Upload, after adding the Email Addresses and Applicant ID.

The following message will appear, when the upload is complete.

In case your upload is unsuccessful, that is, you have uploaded a file with an incorrect file extension or of the wrong file size, the below window appears:


After successfully uploading the excel sheet, send your invitations by clicking Send Invitations.



The system will process the uploaded file and send invites to the valid email addresses only.
Note: This processing can take up to 10-15 minutes.
After this processing, you shall receive an email (as below) containing a summary of the delivery of the invitations. Make sure to open the file attached to this email, which gives you specific details on your failed email invitations.
Note: Only the details of failed invites will appear in the attachment with this email, that is, the case when there have been invalid email addresses in the uploaded document. Otherwise, you shall find no files attached.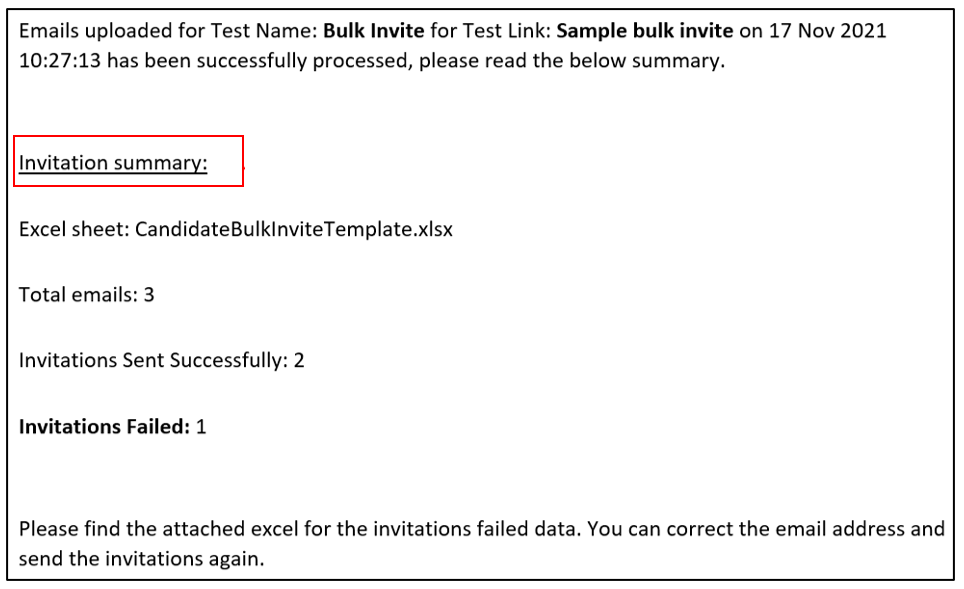 The file attachment appears as below:

Please review the details enlisted, make corrections and re-upload your excel file to resend the invitations.
Related articles,
How to invite candidates via API
How to create test links and invites
What are the test invite options
For any queries, mail us at support@imocha.io.