Learn about the invite options and which ones work best as per your sourcing channel
iMocha provides two invite options that you can use. These invite options can be decided when you create an invite link for your tests. The two options are:
1) Email Invite
1.1) Bulk Invites
2) Open the link
1) Email Invite
Email Invite essentially means that only the candidate whose email address is entered will be eligible to appear for the tests. This type of invite is mostly used when you have a limited number of candidates, say 10-50 in one go. Typically, anything below 100 is recommended. E.g., for lateral hiring, the number of applications will usually be less as it is a specialized position. In that case, email invites are the best option to go forward. When you select the email invite, you have to enter the email address and configure the access time and proctoring details. The email is sent through the system with auto-follow ups.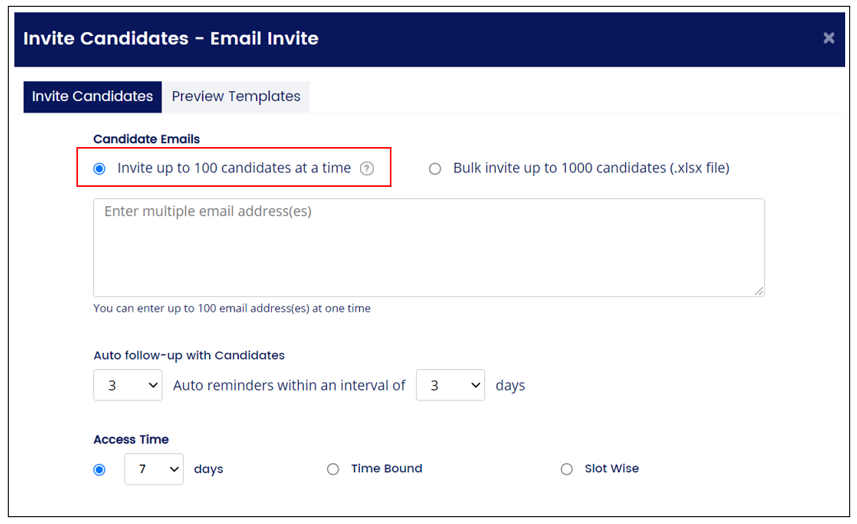 1.1) Bulk Invites
This option enables you to send a maximum of 1000 test invites in one go. This is usually opted for a larger number of invites, mostly above 100. It eliminates the hassle of adding delimiters between every email address. After clicking on the option saying Bulk invite up to 1000 candidates (.xlsx file), you can download the sample excel template as directed in the picture below. Input your candidate email addresses in this file and upload it using the option Bulk Email Upload. Your email addresses will be saved.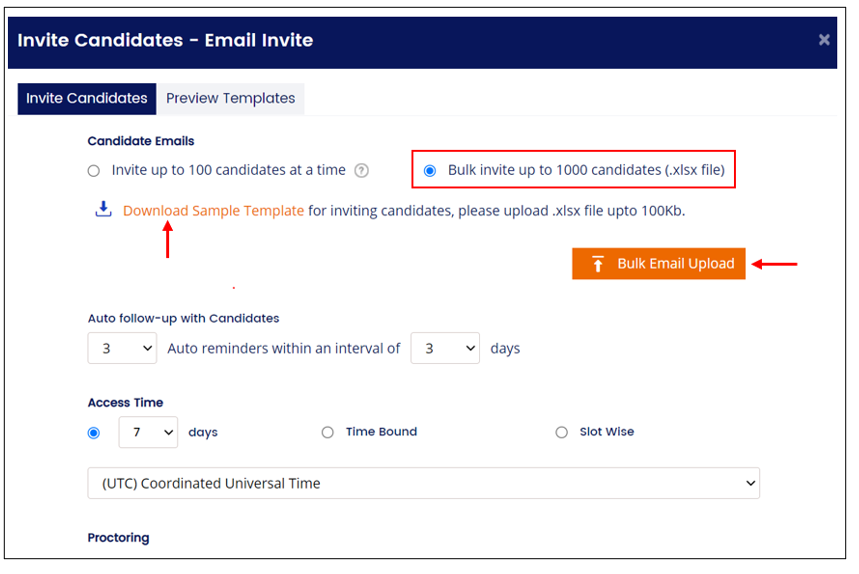 Processing the invites, after you click Send Invitations, might take up to 10-15 minutes. Once the process is complete, you shall receive a summary on your invitations via eMail. You can use the attachment file (sent only if failed/invalid emails are encountered) to make corrections and re-send invites to failed invitations.

Your candidates shall receive a test invitation email containing an important link as shown below: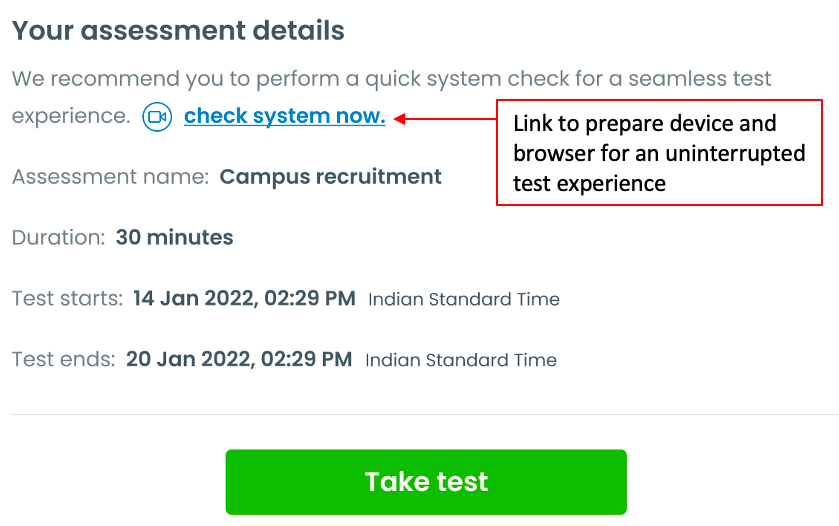 This email contains a link called "system check now", which will redirect candidates to a system check page, where they can ensure that their browsers and devices are compatible with the test platform. This will prepare candidates to avoid any technical failures during the assessment.
2) Open Link
Open Link invite is used for bulk or university hiring wherein the number of candidates is high, making it inconvenient to enter everyone's email addresses. Open Link invite generates a test link immediately, and this test link can be shared through any medium like email, messengers, LinkedIn, or your career page as well. There is no need to enter any email address for an open Link invite, just configure the access time, proctoring details, and you are done.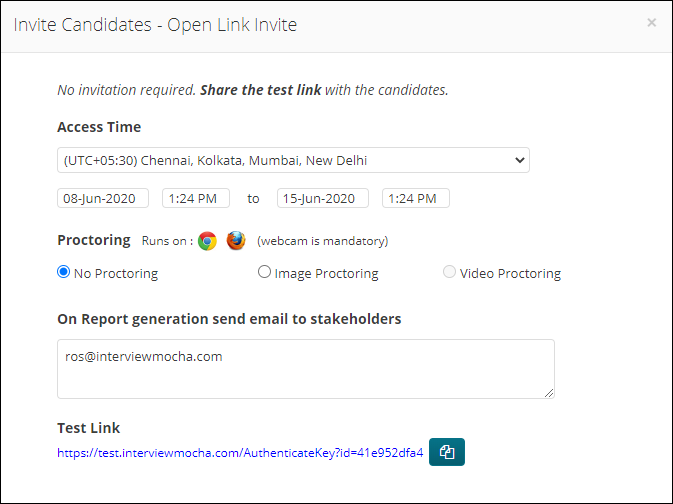 Knowing which invite type to use certainly speeds up the hiring process. This was all about using the perfect email invite types.
Also, please read our blog on how to ace recruiting emails.
In case of any queries, contact us at support@imocha.io.
You may also check