Know how to cancel test invites
Sometimes there might be a situation when you need to change the test questions, but the test invitation has already been sent. Or it might also happen that you no longer want the particular candidate to take the test. In such a scenario, iMocha helps you to cancel the test invite of the candidates.
Don't worry; iMocha does not consider the canceled invitation as a test attempt. So there will not be any deductions from your test attempt count.
To cancel the test invitation:
Click the "My Tests" tab on the top panel.
From the list of tests, choose the test for which you want to cancel the invite.
Click Invites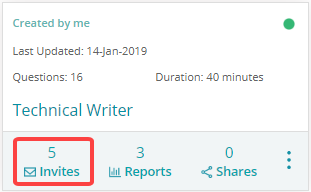 Select the link for which you want to cancel the invitations
You will get a list of candidates that have been invited to the test.
Select the check box for the candidate you want to cancel the test invite for

Click the "Cancel Invitation" button.
The email will be sent to the candidates notifying the test cancellation.
Note: You cannot cancel the invitation to candidates who have completed the test. Instead, you can allow to reattempt the test.
In case of any queries, please mail us at support@imocha.io