Verify candidate and authenticate right from the assessments to onboarding. It verifies the candidate prior to the assessment and ensures that the right individual advances to the next round, is selected, and joins the organization.
I. Enable Candidate ID Verification
To unlock smartness of Candidate ID Verification, connect with iMocha's Customer Support Team
To enable this feature for an assessment, go to My Tests on the top panel and select the test you wish to proctor
Click on Settings, select Proctoring Settings

On scrolling down, you shall find the option of Candidate ID Verification Settings. Here, you may customise test termination settings based on intensity of cheating.
Note: iMocha's Candidate ID Verification runs seamlessly on both Firefox and Chrome browsers
Once enabled, the candidates will see the following instructions, to help them verify their identity, before entering the test platform.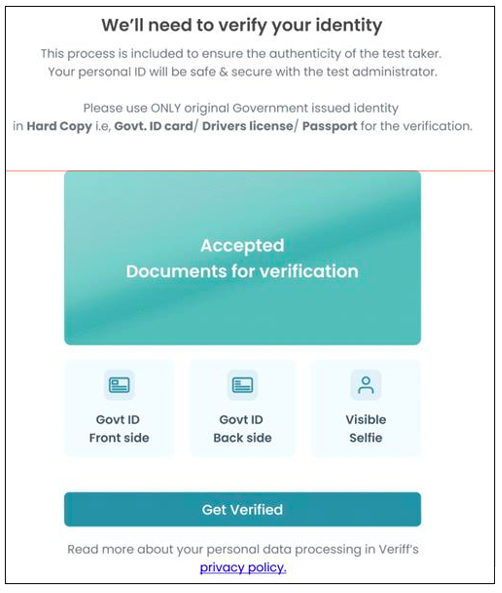 II. View Candidate ID Verification Reports
1. Go to My Tests and select the test whose proctoring reports you wish to review. Click on Reports to view details.



2. Click on View Report

for the candidate whose verification details you wish to review. A new window showing Summary of candidate report opens.
Scroll down to view Candidate ID verification Block where you will find violation details as below: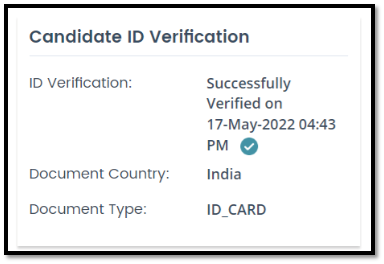 Impersonation at multiple levels of recruiting is a serious challenge for online recruitment. The verification insight will help make sure the Talent Acquisition Teams are able to detect impersonation during the hiring process.
Know more