Subjective answers whose points cannot be predetermined objectively can now be assigned No Points, to enable an easier scoring procedure for hiring managers.
Providing an option for subjective evaluation will render fair opportunities to all candidates who are screened in based only on points. In order to assess your candidate subjectively, lets have a quick look on the below steps.
1. Click on
My Questions
tab from the top panel on your app platform

2. Under the Questions tab, Select Add Question to see a dropdown enlisting the various question types


3. Select the category of question you would like to assign No Points to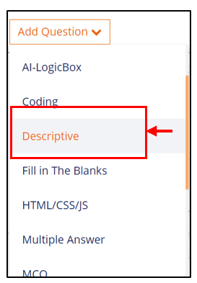 Note: In keeping with the demand of a question type, the "No Point" option has been enabled for the following type of questions only:
Descriptive
HTML/CSS/JS
Video Interview
Upload File
4. Clicking on any of the above question types will open a box as below, where you can set the details and points for your question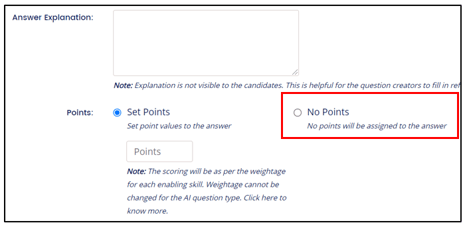 Here, you can opt for No Points for your question
5. After clicking on
No Points
, the text box asking for points input disappears and your question shall
NOT
process any pre-set objective points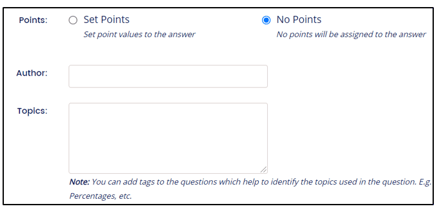 6. Now, you can proceed further by clicking on
Save,
to save your question. In case you wish to see a preview, you may select
Save and Preview

7. You are good to go and can click on
Close
to finish the process
How to read the test reports containing analysis for some "No Points" questions?
The Total Score shown in Reports, Excel download and PDF will have taken into account only points scored in questions falling under Set Points, i.e., questions enabled under No Points will NOT be included in the Total Score. Moreover, Percentage for sections and skills as well as Correctness will NOT cover No Point enabled questions.
For any queries, please mail us at support@imocha.io
You can also check
How to add your own questions?
How to add a Logic Box coding question?
Evaluate Business English Proficiency