Window violation records instances where the candidate tries to move out of the test window.
What is a Window violation?
Window violation is a feature that helps to detect any movement of the candidate outside their test window. In short, if the candidate tries to source answers from the web engines, chat windows, or any external web help, the system will give a pop-up message saying that it is not allowed. In the candidate report, you can also see the window and time violation report. The time violation shows how much time the candidate was out of the test window. Test administrators can decide even to terminate the test if the candidate exceeds the permissible limit.
How to set it up?
Go to Global Settings.
Select Master Test Settings from the list on the left.
Click "Proctoring Settings"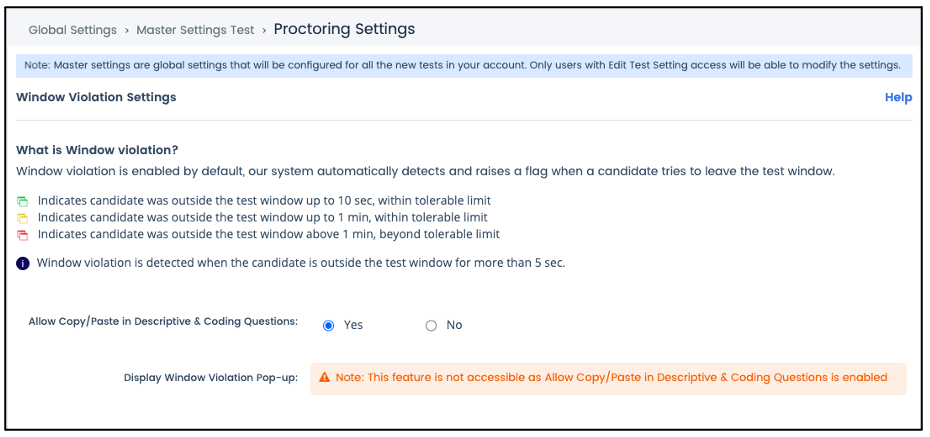 You can choose to allow or disallow the copy/paste option. When the copy/paste option is enabled, the window violation setting will be displayed.
Select Yes to enable window violation popup
You can choose to terminate the test if the candidate exceeds the maximum no. of test violations allowed.
(Note: If you allow the candidate to copy/paste, then window violation will not be enabled)
Click Save Proctoring Settings
Window violation is now enabled for this test only and not for the other tests in your account.
Note: While creating a coding test, we do not recommend you to enable this option.
Does the proctoring and window violation details show up in the reports?
Yes, once the settings are enabled, the details will be seen in candidate reports. When you view the reports for the test, our AI-powered proctoring analysis will give you a snapshot of the proctoring activity at a glance.

Apart from this, you can also view the analysis in detail in the report. The window and time violation details are displayed for each question under the questions tab as well.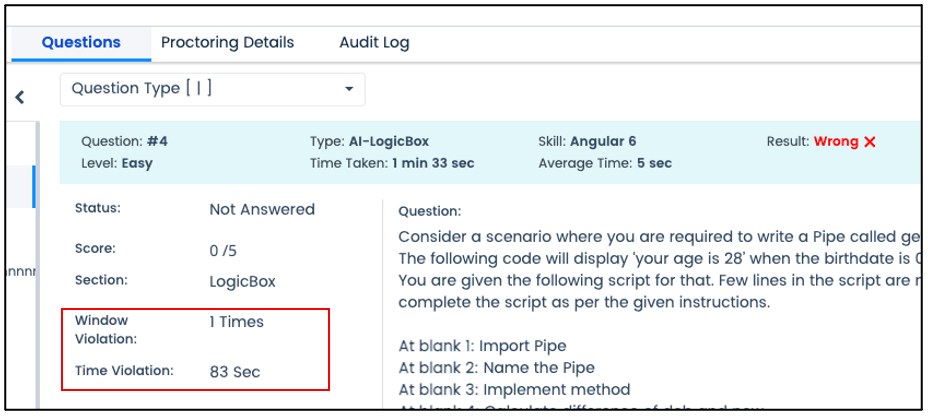 In case of any queries, please mail us at support@imocha.io