Learn about one of the most powerful analytics to streamline your hiring process.
The weekly email is a performance report sent once a week summarizing the previous week's hiring data in a nutshell. This helps you to get valuable insights on your Tests, no. of candidates invited, and their feedback.
To enable weekly emails
1. Click Settings -> My Settings
2. Click Weekly Usage Email

3. You can select to receive email notifications for only your account, or you can select the users
Your weekly email notification will include
A. Invited Candidates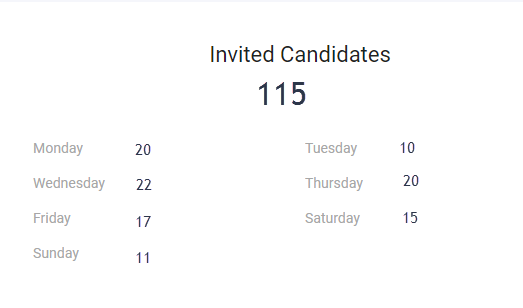 A bifurcation of how the invites were spread out over the week. This metric tells you the number of candidates that were invited over a week, when the highest or the lowest number of invites sent, and is useful for analyzing your candidate sources and job ads.
B. Appeared Candidates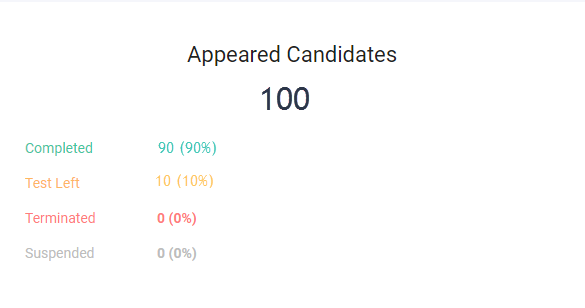 A breakdown of the status of the tests for candidates who attempted the test. This tells you how many candidates have appeared for the test, along with the test status. A high completion rate is satisfying; however, a low completion rate means that candidates are leaving the test unfinished – perhaps the test is too long, is boring, or does not contain the relevant questions. It could also indicate some technical glitch (Test Suspended status).
C. Top Active Test of the week
A breakdown of the scores of the candidates. It shows the top 3 active tests of the week along with the performance categories for each test. You can view which tests have been trending during the week. You can correlate the active tests with the currently open job positions.
D. Candidate Feedback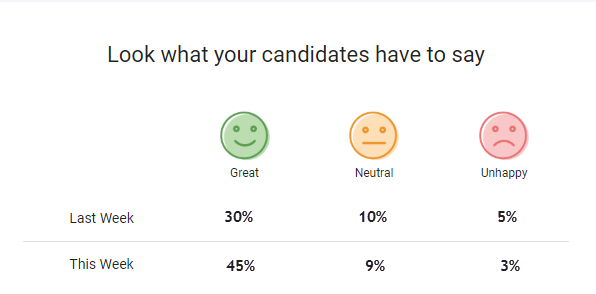 A snapshot of how the candidates have rated the tests compared to last week and the % increase or decrease in the candidates' various feedback received.
For any queries, please contact support@imocha.io.