Know to enable Video Proctoring to view screen feeds of candidates during the test attempt.
iMocha uses advanced AI-enabled cheating prevention measures to ensure that the candidates take the tests fairly. Video Proctoring lets you view the recorded screen feeds of the candidates taken during their test attempts. This will take remote proctoring to the next level and speed up the hiring process.
Note: You can enable the Video Proctoring feature on the invite pop-up; however, you first need to contact support@imocha.com to enable it in your account before you start using it.
i. Set up Video Proctoring
Click My Tests
Select the Test for which you want to enable Video Proctoring
Click Invite
In the pop-up that opens, select Video Proctoring


5. Video Proctoring will be activated for the test.
ii. View Video Proctoring details in Reports
You can view the Video Proctoring details in Proctoring Details. You can click each Section video to view it.
Note: For the system to document a Section video, it requires the following:
Candidate attempts the Section.
The camera captures recording for at least one minute per Section.
Ensure Video Proctoring has been enabled at the global and test levels for the test.
Certain sections may have multiple videos if the Test is interrupted due to loss of power/internet connection or Camera/Microphone issues.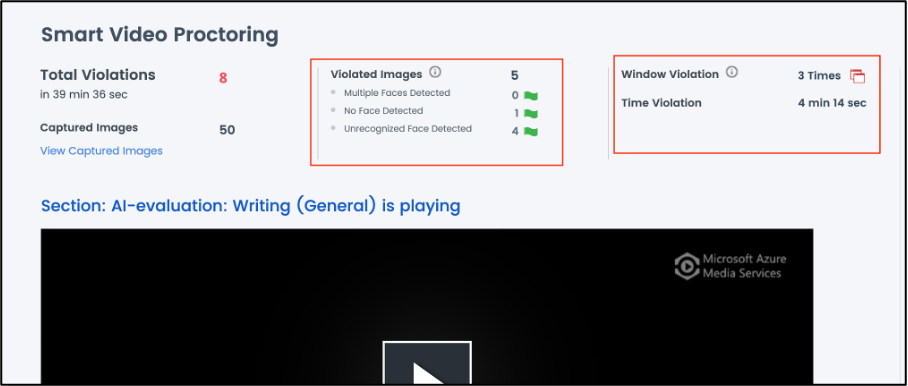 You can see Section wise videos, along with an indication of the number of violations per Section, on the right side

On playing the video, Red time stamps indicating exact instances of cheating will appear on the timeline. You can skip the video directly to those time stamps to view real-time violations.

Further below in the report, you can find a compilation of candidate Image Violations (captured every 20-40 seconds), highlighted in Red.
Window Violation time range is highlighted in Yellow on the timeline, you can directly jump to the timestamp when the test window was violated.
Such smart insights and analytics on real-time proctoring shall help make more informed, evidence-based decisions.
In case of any queries, please mail us at support@imocha.io.