Know the various question settings and how to use them.
Question settings appear under Test settings and are a useful feature to use. So let's see what the Question settings are.
Click My Tests, and select the test.
Click Settings.

Click Test Settings, the Question Settings appears as shown below: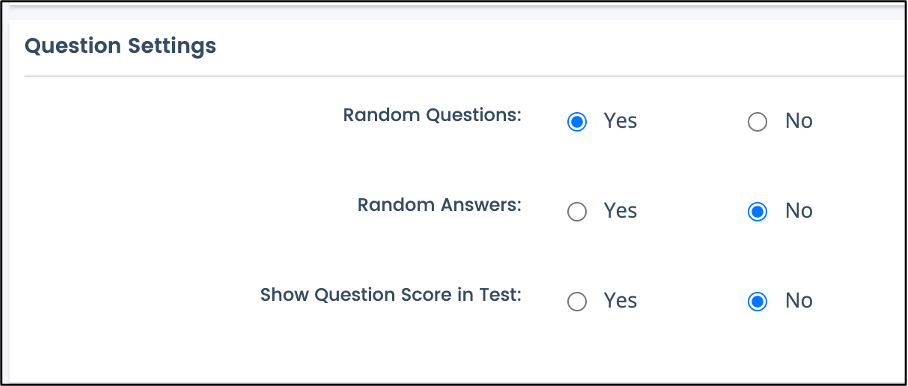 There are three important settings for the questions:
1. Random Questions – Enabling Random Questions means that the candidate will get any of the entire skill library's questions. E.g., If the skill library has 30 questions in total, and you want 15 questions to appear in the assessment, with Random questions, any 15 of the 30 will appear in the assessment. If you disable random questions, the candidate will get the question in the same order as they appear in the skill library.
Important: In the question bank, if the points allotted to the questions are different, you should switch off the random questions. Otherwise, scores will not be comparable. You can obviously look for the score in percentage :).
2. Random Answers – Click "Yes" if you want to give random options to the questions.
Example: For the particular question, to some candidates, option A can be the answer & for some others, it may be option B, and so on.
3. Show question score in Test- This option will show how many marks are allotted to each question. The candidate will also be able to see the marks for each question when attempting the exam.
For any queries, mail us at support@imocha.io.