Know how to use iMocha's email domain settings to ensure that email communication is mapped to your domain.
An email is a vital form of communication in the assessment process. By default, all email communications from the iMocha platform are from noreply@imocha.io. In case you wish to send emails using your company email address, please send a mail to support@imocha.io.
Suppose the iMocha support team has already enabled this setting. You need to follow the below steps.
Registration of Domain:
Go to Settings -> Global Settings.
Click Email Domain Settings.
Choose the option Use my email domain.
Click the Register Domain.
After clicking on Register Domain, you can see CNAME Records.

Mapping of CNAME Records:

Map this CNAME with your domain hosting provider. Once mapped successfully, you can verify the domain. You need to map both the Host and the Data CNAME with your domain hosting provider.
Note: CNAME mapping will take 24- 48 hours to propagate on the Internet.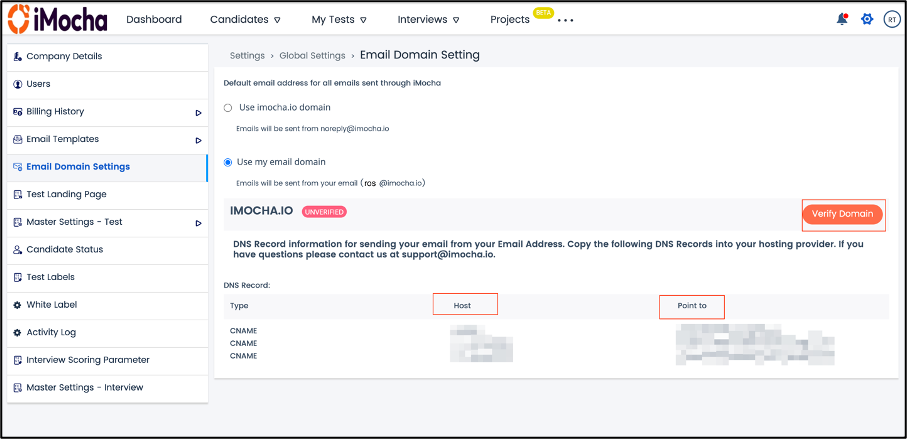 Verification of account:
To verify the account click Verify Domain, Verified text is displayed to confirm the verification.
Note:
The emails will be sent from the signed up email address only if
You have a Verified flag for Domain Verification.
You have chosen the Use my email domain option in the Email domain settings.
If not, the mails will be sent from noreply@imocha.io.
For any queries, mail us at support@imocha.io.