Know how to view and analyze candidate experience.
Quality talents appreciate an organization that is interested in their opinion even before they join. Candidate feedback is a feature that provides the candidate with an opportunity to rate the test experience. You can decide whether you want the candidate to give the feedback or not and then view it and gauge how the test performs.
To allow candidate feedback:
Click My Tests and select the test for which you want to enable candidate feedback.
Click Test settings.
In Display message Settings, select Yes for Allow candidate feedback option.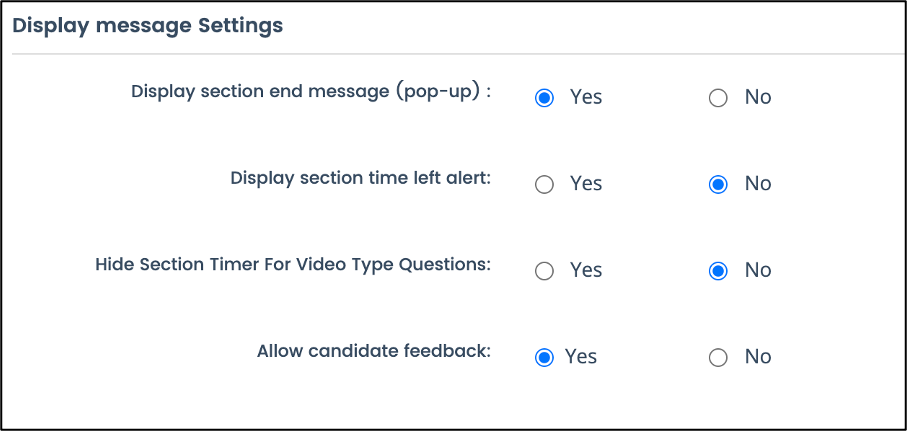 When Allow candidate feedback option is enabled, the candidate will get a feedback window after they complete the test. Candidates can rate their test experience by clicking the emoticons, choosing the yes/no options for the questions mentioned, and entering their feedback in the text box provided. The feedback can be seen in the candidate reports and analytics as well.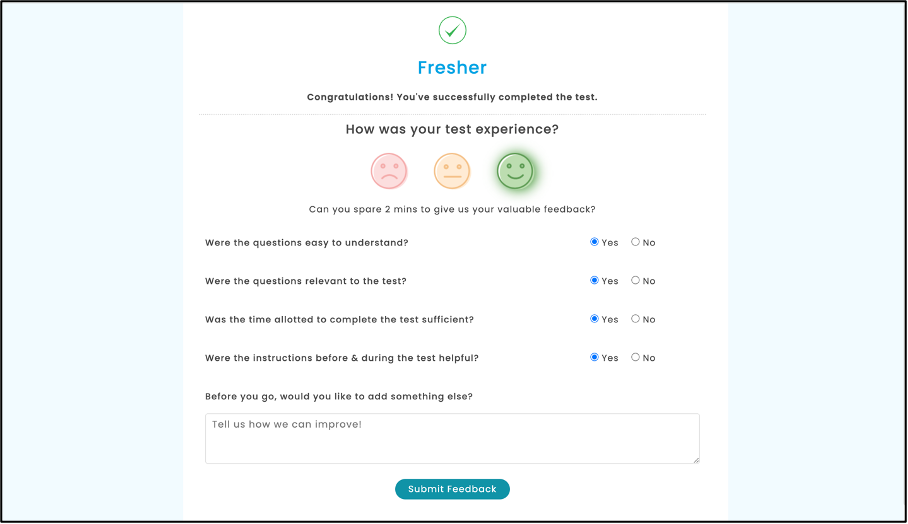 To view candidate feedback in Candidate Reports:
Click My Tests and select the test for which the candidate has appeared.
Click Reports.
Click View Report icon corresponding to the candidate whose report you want to view.
The Candidate Feedback section is displayed in the Summary tab.

To view the candidate feedback in Analytics:
Log on to your account (Admin accounts only).
Click Analytics.
Click Candidate Feedback.

The feedback and the comments appears as shown below.

You can even filter the status and comments by clicking on the individual emoticons.
Note: Only admin accounts can view the candidate feedback.
For any queries, mail us at support@imocha.io.