Know how to share your question banks with teammates.
iMocha allows you to create and upload your own questions and use them in assessments. When you create a skill under a category and add questions to it, it becomes a Question Bank for that particular skill. You can share skill question banks created by you with your team members. E.g., you have uploaded your questions in a skill bank named verbal reasoning, which you wish should be used by your team-members for various recruitment. You can share this skill bank (verbal reasoning) with your team members so that they can start using it accordingly.
To share Question Bank with your team-members:
1. Click My Questions.
2. Click Manage Category/Skills.
3. You can view a list of all skills or select a particular skill from the drop-down menu.
4. Click Share icon.

5. In the pop-up window, follow the below steps. The recipient will get an email notification when you share a skill bank.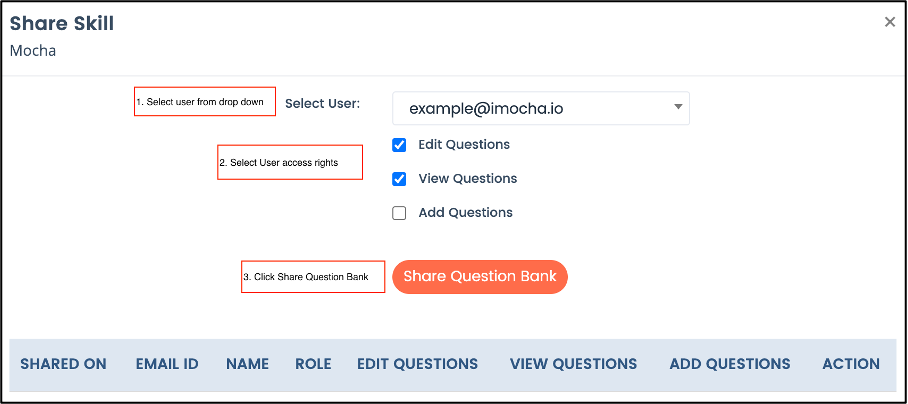 6. You can view the list of users with whom the skill bank is shared, along with the access rights.

7. You can use the Edit button to edit access rights or completely revoke the rights. To revoke rights, you have to uncheck all the access boxes and click Save.
For any queries, mail us at support@imocha.io.