Know the key components in the AI-EnglishPro report and how it can help identify the top performers
Overview
AI-EnglishPro empowers customers to assess Business English proficiency skills like Reading, Writing, Speaking and Listening in a single test. iMocha has based its EnglishPro assessment on CEFR (Common European Framework of Reference) standards to empower our customers to make data-driven hiring decisions.
Adding the AI-EnglishPro Assessment
The first step begins with adding the assessment to your account. You can request your account manager to add the test to your account. Since this is an assessment curated by language experts, with the right mix of questions for Reading, Speaking, Writing, and Listening, the editing option is disabled. Once the test has been added to your account, you can create links and invite candidates. Read How to create links and invite candidates.
Reading the Report
After the candidate completes the test, the report is generated within 2 minutes. Let's see how to read the AI-EnglishPro report.
1. Score Analysis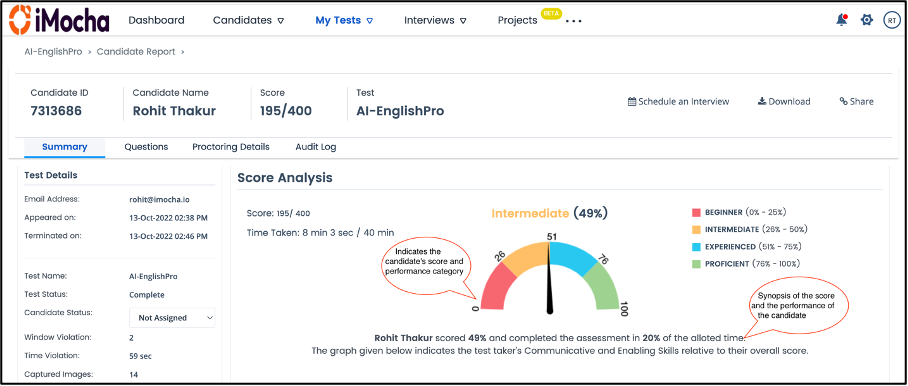 The Score Analysis section displays a snapshot of the candidate's performance. Each section is for 100 points, and the candidate's answer is evaluated using Artificial Intelligence and Natural Language Processing algorithms.
2. Section Score Analysis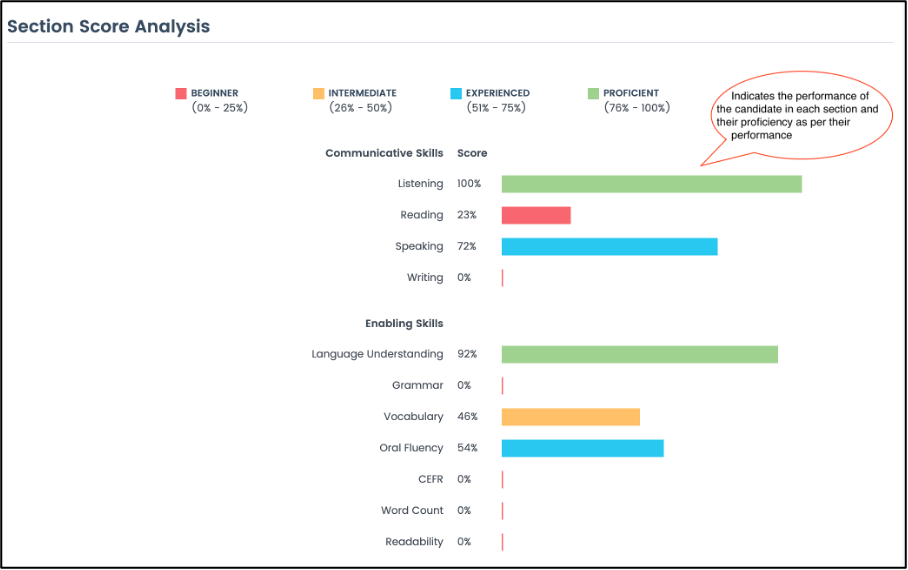 The section analysis breaks down the scoring into two components, Communicative Skills and Enabling Skills. The bar graph indicates the percentage scored by the candidate for each skill. Each bar graph is color-coded as per the performance category.
3. Section-Skill Analysis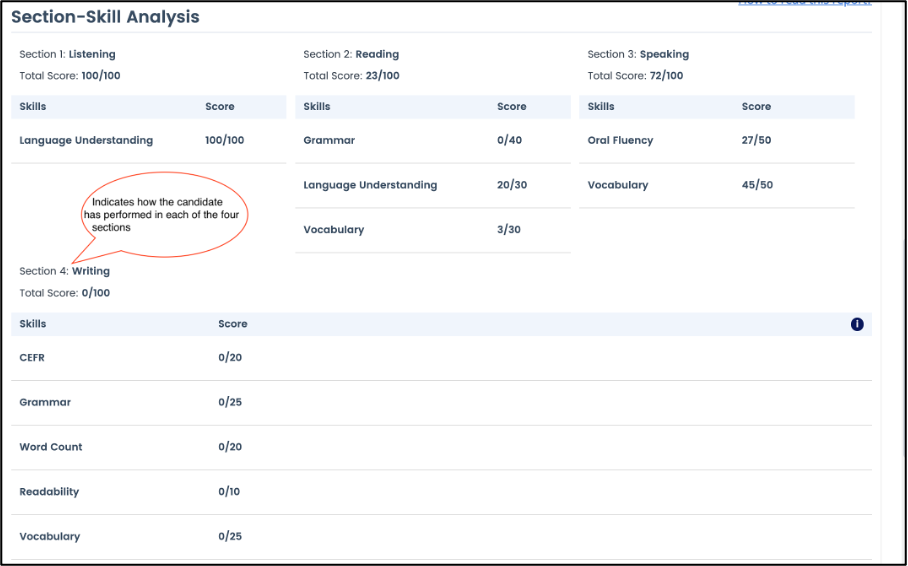 The section-wise skills analysis throws light on how the candidate has performed in each section for various skills. In the writing section, Grammatical mistakes indicate the errors highlighted by AI, which the human eye might miss. For example, whitespace here refers to a lack of space ( ) between two words or paragraphs or more than one space between words or paragraphs. A typographical error means that a word is misspelled due to the wrong alphabetical key being struck. For example, wrong can be typed as wrnog.
4. CEFR Level
The Common European Framework of Reference for Languages (CEFR) is a standardized grading system aiming to validate language ability. It is the weighted average and provides a composite score of the candidate's writing abilities. The levels are- A1, A2, B1, B2, C1, C2. The CEFR levels indicate the written text falls under which category.

5. Vocabulary categorization (based on English Vocabulary Profile)
This feature helps you to categorize the words used by the candidate (in the Writing section) in terms of the Common European Framework of Reference for Languages (CEFR) levels. It is unique in categorizing vocabulary in terms of the CEFR levels based on a huge candidate dataset. There is a total of 6 categories on which the data is displayed. The types indicate what percentage of words from each category the candidate uses in their written text.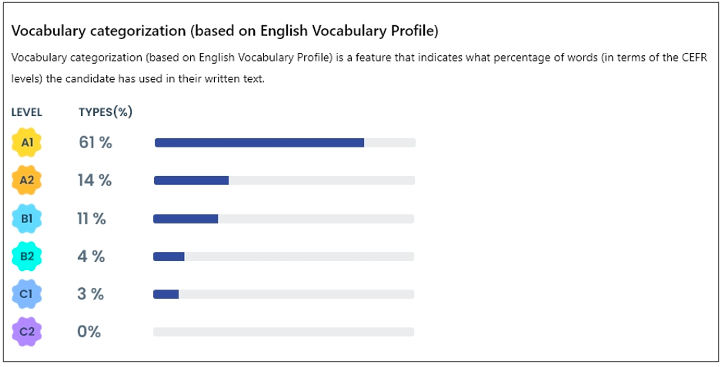 Council of Europe levels
Description
C2
Mastery
The capacity to deal with material that is academic or cognitively demanding, and to use language to good effect at a level of performance that may in certain respects be more advanced than that of an average native speaker.
C1
Effective Operational Proficiency
The ability to communicate with the emphasis on how well it is done, in terms of appropriacy, sensitivity, and the capacity to deal with unfamiliar topics.
B2
Vantage
The capacity to achieve most goals and express oneself on a range of topics.
B1
Threshold
The ability to express oneself in a limited way in familiar situations and to deal in a general way with non-routine information.
A2
Waystage
An ability to deal with simple, straightforward information and begin to express oneself in familiar contexts.
A1
Breakthrough
A basic ability to communicate and exchange information in a simple way.
5. Readability Score

A readability score is a number that tells you how easy it will be for someone to read a particular piece of text. iMocha's readability score is based on the average length of sentences and words in your document, using a Flesch reading ease test formula. In most cases, a score of 60 or higher means that your document is easy to read for most people with at least a US eighth-grade education.
6. Linguistic Diversity

Linguistic Diversity is based on the analysis of metadiscourse markers in the text.
Also known as 'transitions,' these are words and phrases such as 'firstly' and 'in conclusion' that add extra information to a text.
They can:
show how ideas in a text are connected to each other
help the reader understand which direction the text is flowing in
present the writer's opinion and potentially take a stance
express the writer's degree of certainty
help the writer connect with the audience
This linguistic diversity percentage is calculated as = the Total number of words defined by the meta-discourse markers/Total words used in the text * 100.
iMocha analyses the following meta-discourse markers
| | |
| --- | --- |
| Announce Goals (Frame marker) | Relational markers |
| Code glosses | Attitude markers |
| Endophorics | Emphatics (Boosters) |
| Hedges | Evidentials |
| Logical connectives | Label stages (Frame marker) |
| Person markers | Sequencing (Frame marker) |
| Topic shifts (Frame marker) | |
These categories are based on the types identified by Stephen Bax, Fumiyo Nakatsuhara, and Daniel Waller in their 2019 study published in the Science Direct journal. This study was built upon the work done by renowned British linguist Prof. Ken Hyland.
The full list of words under each category are as follows:
Announce Goals (Frame marker)
my purpose
the aim
I intend
I seek
I wish
I argue
I propose

I discuss
I would like to
I will focus on
we will focus on
I will emphasize
we will emphasize
I suggest

my goal is
in this section
in this chapter
here I do this
here I will



Code glosses
for example
for instance
e.g.
i.e.
that is
that is to say

namely
in other words
this means
which means
in fact
Viz.

specifically
such as
put another way
known as
defined as
called
Endophorics
see
noted
discussed below
discussed above
discussed earlier

discussed later
discussed before
section
chapter
fig

figure
table
example
page


Hedges
almost
appear to be
approximately
assume
believed
certain extent
certain level
certain amount
could
couldn't
doubt
essentially
estimate
frequently
generally
in general




largely
likely
mainly
may
maybe
might
mostly
often
perhaps
plausible
possible
possibly
presumably
probable
probably
relatively



unlikely
uncertain
unclear
usually
would
wouldn't
little
not understood
seems
sometimes
somewhat
suggest
suspect
apparently
indicate


Attitude markers
admittedly
I agree
amazingly
appropriately
correctly
curiously
disappointing
disagree
even

fortunately
have to
hopefully
important
importantly
interest
interestingly
prefer
pleased

must
ought
prefer
remarkable
surprisingly
unfortunate
unfortunately
unusually
understandably
Emphatics (Boosters)
actually
always
apparent
I believe
certain that
certainly
certainty
clearly
it is clear
conclusively
decidedly
definitely
should



demonstrate
determine
doubtless
essential
establish
in fact
the fact that
indeed
know
it is known that
must
never
even if

no doubt
beyond doubt
obvious
obviously
of course
prove
show
sure
true
undoubtedly
well known
won't
even if
by far
Logical connectives
and
but
therefore
thereby
so
so as to
in addition
similarly
equally
likewise
moreover
furthermore
or



in contrast
by contrast
as a result
the result is
result in
since
because
consequently
as a consequence
accordingly
on the other hand
on the contrary
however



besides
also
whereas
while
although
even though
though
yet
nevertheless
nonetheless
hence
thus
leads to


Relational markers
incidentally
by the way
determine
consider
imagine
let
let us

let's
lets
note
notice
our
recall
our

us
we
you
your
one's
assume
think about
Topic shifts (Frame marker)
well
to move on
to look more closely

to come back to
in regard to



with regard to
to digress


Evidentials
according to
cite
cites
quote
established
said
says
points out
points to

point to
point out
argues
argue
claim
claims
believe
studies
research
literature



believes
suggests
suggest
show
shows
proves
prove
demonstrates
demonstrate
found that
Sequencing (Frame marker)
to start with
first
firstly
second
secondly
third
thirdly

fourth
fourthly
fifty
fifthly
next
to begin
last

lastly
finally
subsequently
two
three
four
five
Person markers
For any queries or if you would like to see AI-EnglishPro in action, mail us at support@imocha.io.