Know how to customize email templates to make your email communication engaging and intuitive.
In the hiring process, every communication sent on behalf of the company helps make an impression on the candidate. It is one of the effective ways to white label as well. iMocha has designed intuitive email templates for Inviting Candidates. Besides this, you can customize the email templates for Test Reattempts, Test Invitation Cancelation, Test Completion Emails, Invite Reminders, and more.
You can customize the following email templates:
Test Invitation Email
Cancel Test Invitation Email
Test Completion Email to Candidate
Test Completion Email to Stakeholders
Test Reattempt Email to Candidate
Invite Reminder Email to Candidates
Candidate Enrollment Email
How to set up Email templates?
Go to Settings -> Global Settings.
Select Email Templates.
From the panel, choose the template that you want to customize.
You can change the subject and body of the email in the template.

Test Invitation Email:
We have designed five ready to use templates for test invitation emails.
To view the templates, click Choose Template.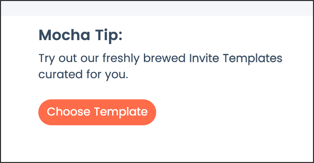 You can click on each tab to view the five different templates.
Select the one you want to use and click
Use this template
.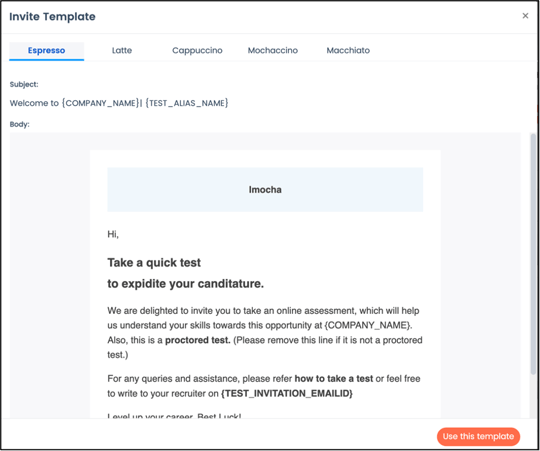 The chosen template will be set as the default template for a test invitation. Currently, we have designed templates only for Invites.
Note:
All the emails have placeholders that can be replaced by real-time values, ensure to replace the placeholders.
Ensure to remove the text mentioning proctoring, if your test is not proctored.
If your test has Negative Marking, mention it in the instructions so that the candidate is aware of it.
For any queries, mail us at support@imocha.io.