This article will help you know how to manage access to features and actions of Live Interviews, for different user roles on the platform
Manage access settings for Live Interviews, using steps below:

1. Click the Settings -> Global Settings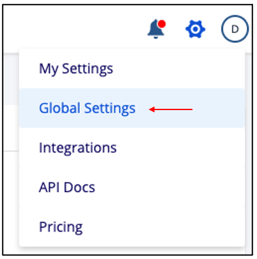 Note: Only Admin and Super Admin user roles have access to Global Settings.
2. Click Users option from the list on the left

A list of all users of the platform will appear. Here you can manage all users in your team.
3. Under Actions column, clink on the Edit icon as indicated below

A page with User Information and Access Level of the selected user will appear. Here you will find access granted to the user for multiple functionalities on the app platform.

4. Scroll down to find the access level for Live Interviews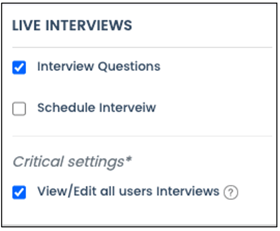 You can enable or disable three different capabilities by clicking on the check box for each option, as indicated in above image.
a. Schedule interviews
I. Disabled
The user will NOT be able to schedule any new interviews.
II. Enabled
The user can schedule new interviews.
b. Interview Questions
I. Disabled
User will not have access to View Interview Questions link. He or she cannot view any of the Live Interview Questions.
II. Enabled
User can access View Interview Questions, as shown below, and view all Live Interview questions.

On clicking this link, user will be redirected to below page of questions:

c. View/Edit all users Interviews
This is a critical setting.
I. Disabled
User will have access to list of those interviews which:
a. Have been scheduled by him or her
b. Includes him or her as host or guest interviewer
User can access this list using My Interviews option under Interviews tab.
II. Enabled
User will have access to a new option called All Users' Interviews, under Interviews tab on the top panel.

Using this feature, he or she can view all interviews scheduled on the platform,
a. where he or she may or may not be host/guest interviewer
b. which are scheduled by any one of the platform users
Note: We recommend enabling critical settings access to Admin and Super Admin only.
This flexibility helps you to control the access granted to each user as per the assigned role. This helps you optimise team management.
In case of any queries, please contact us at support@imocha.io